Era 8: The great depression and world war II (1929-1945)
Era 8: The Great Depression and World War II (1929-1945)
Era Eight One-page Guide (PDF) (This is a one page document for teachers to reference when creating their lesson plans. By checking the standards that apply, teachers can show how their lessons meet district, state, and national curriculum Standards.)
Era Eight: Standard Guide PDF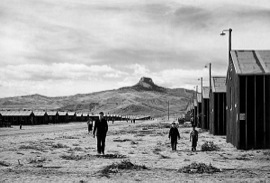 "Despite being warned there was no military necessity, and having no evidence of planned sabotage or imminent invasion, President Franklin D. Roosevelt ordered the mass removal of 110,000 persons of Japanese ancestry from the West Coast to 10 American concentration camps in seven states." from PBS: Conscience and the Constitution
MCHCE's mission to provide teachers with free, relevant, and accurate resources is realized through this website, which is also a gateway to colloquium materials provided at past TAH and MCHCE professional development programs. Additionally, through participation in MCHCE Professional Development, teachers are encouraged to create classroom curriculum from the content presented. These materials are then shared to teachers through our website.
We have tried to follow a strict copyright policy. If you see an item posted that you feel infringes upon copyright, please Contact MCHCE immediately and the item will be removed.
Presentations
A New Deal for Whom? The Dawes and General Allotment Acts Professor Walter Fleming, Montana State University Department of Native American Studies

Indian Reorganization Era, The Indian New Deal: 1928-1950 Professor Walter Fleming, Montana State University Department of Native American Studies

Hope in Hard Times: New Deal Photographs of Montana, 1936-1942 Select Bibliography Professor Mary Murphy, Montana State University Department of History and Philosophy

Bibliography: Edwin Dobb, "Pennies from Hell: In Montana, the Bill for America's Copper Comes Due," in Montana Legacy, ed. Harry Fritz, Mary Murphy, and Robert R. Swartout, Jr. (Montana Historical Society Press, Helena, 2002). Google Books Preview

Rebuilding the House of Labor by Dr. Jim Bruggeman

The Causes of the Great (or Not So Great) Depression by Professor Bob Rydell (Rough Presentation Notes) (Video)

Eleanor, Franklin, and the New Deal by Prof. Bob Rydell

The Indian New Deal by Prof. Walter Fleming

Henry Roe Cloud by Prof. Walter Fleming

Prof. Dale Martin, Butte and the First World War

Prof. Mary Murphy, Home, Homefronts, Homelands: Reading Women's History in "Homely" Quilts (PPT); Websites: The Quilt Index, International Quilt Study Center and Museum, Lincoln, NE

The Imprisonment of Japanese Americans in U.S. Concentration Camps by Sam Mihara, former prisoner at Pomona and Heart Mountain Camps

Fighting the White Man's War: Native Americans and WWII by Professor Walter Fleming, Montana State University Department of Native American Studies
Curriculum
Links and Resources

Remembering Jim Crow
http://americanradioworks.publicradio.org/features/remembering/

The Korematsu Institute
http://korematsuinstitute.org

Links to Heart Mountain Relocation Center Sites:
During the 2004 Summer Institute, we visited the Heart Mountain Relocation Center just outside of Cody, WY. Once the third largest city in Wyoming, the center was home to thousands of American citizens of Japanese descent. These Americans were removed from their homes and relocated to Heart Mountain under Executive Order 9066.

In addition to touring what remains of the facility, we also had the opportunity to view a Heart Mountain exhibit and talk with librarians from Northwest College in Powell, WY.

LaDonna Zall, also a retired teacher, led the tour group and provided ways to incorporate the relocation center into classroom activities.